So many reasons why you should choose
GABLE-TOP CARTONS!
Larger gallon sizes are a specialty as are pint size gable-top containers — with great printing resolution and graphic impact.

Now we can put a WINDOW in a Gable-Top Carton that contains dry ingredients – so your customer can see the contents of your package.

Ask about sustainable substrates like Stora Enso and others.

If you have a product which requires more PROTECTIVE packaging, ask us about New Gen Board, a less expensive way to print a heavier gauge substrate without laminating.
Remember – our IN-HOUSE Creative Services Team can help your product launch into NEW markets – ask for graphic and structural design support.
What Can I Put in a Gable Top Carton?
Milk
Milk alternatives
Water
Egg whites
Iced coffee drinks
Semi solid foods such as coleslaw and potato salad
Candy and Cookies
Pre-made batter
Dried foods
Pasta
Pre-made baking mix
Cereal
Granola
Benefits of Gable Top Cartons
Efficient: The gable top carton is easy to ship, shelve, and store thanks to its practical shape.
Sustainable: The gable top carton is more environmentally friendly than plastic packaging alternatives because it is made from materials that are renewable and recyclable.
Visually appealing: The gable top carton can be printed on directly, so you can cover your packaging with interesting, precise, eye-popping graphics that will set your product apart from the competition.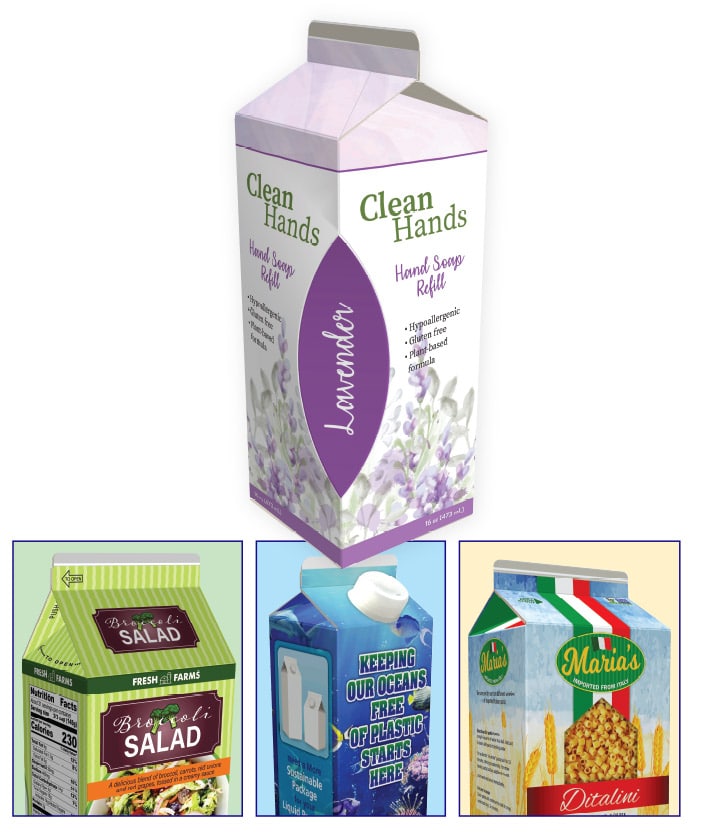 Fill out this form to request a custom mockup.